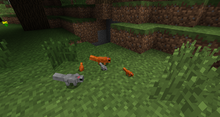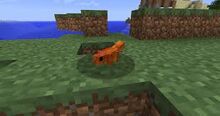 Squirrels are passive mobs that can only be obtained through mods. They have 8 health points.
Spawning
Squirrels naturally spawn in forests. The player can also spawn them artificially by using a squirrel spawn egg.
Drops
Squirrels may drop Leather when killed.
Colors
Squirrels may spawn in one of the two following colors:
Behavior
Squirrels run around in forest biomes and do not attack the player as they are not hostile.
Trivia
Community content is available under
CC-BY-SA
unless otherwise noted.