Zombie Chickens are mobs that can only be obtained through mods. They are chickens in the form of a zombie and attack the player.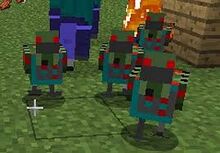 Spawning
Zombie chickens will spawn once a Zombie kills a normal Chicken. Then it will turn into a zombie chicken. The player can also spawn one with a zombie chicken spawn egg.
Combat
A wooden sword or above would easily kill them due to their low life.
Drops
Zombie Chickens, when killed, they drop 2 feathers and 1 rotten flesh.
Trivia
It has immune to fall damage like chickens.